Everything is on fire and you're telling me to worry about bananas?
Yes. Justice, war, climate and your Monday supermarket shop - it all matters.
Here's a list of meaningful ways to support Ukraine.
***
What a time to be alive.
The grief of people across a continent keeps us awake at night. We are far away but not really, not at all - the consequences of delayed action and political games are looming at our doorstep. Bombs on our Twitter homepage and a burning planet under our feet, and we can no longer hide behind the safety net of distance and privilege.
What happens here, impacts what happens there. And what happens in Ukraine and Brazil and Pakistan, happens everywhere.
Because we are brutally, powerfully, electrifyingly connected. Our ability to spread information, mobilise protests that shut down cities, and hold politicians publicly accountable is faster than at any other point in human history.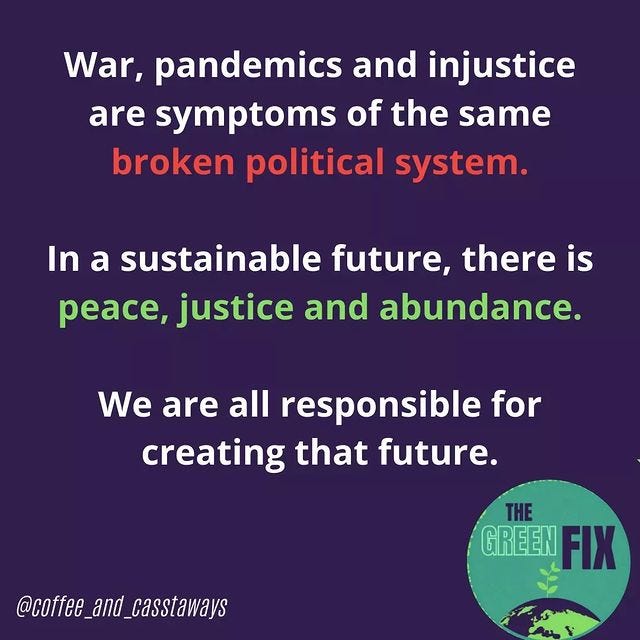 What a time to be alive, when we are so dependent on things and people that are dependent on us. I don't know who made my shirt. I don't know who grew my coffee beans. I don't know who wrote the clickbait headline that has 10,000 retweets.
But in the age of hyper-connection, the unfair balance of power and influence can be redistributed. We are not content to be told what is happening and what the future holds - we the empowered people can be the thing that is happening.
And we are happening, oh yes. In a world on fire, we must write the headlines.
We must share our many platforms of influence with the marginalised and send victories and solutions viral. We must bridge the information and empathy gap between what happens Here and what happens There.
There is no gas crisis with no gas demand. There is no safe and green future without justice and peace. No system change without people change. No sustainable way of living built on senseless violence, finite resources and bubbles of wilful ignorance.
What a time to be alive, when we have begun to unravel what we need to do to value human rights above profit and rewrite the story of our future from one of war and pandemics to one of abundance, sustainability and connection.
What a time to be dissatisfied and outraged and able to do something about it.
***
Help support the Green Fix! This newsletter is volunteer-led. If you find this newsletter useful, please consider donating a virtual coffee. Alternately, please share The Green Fix:
---
What's Going On?
---
Focus On… Fair Trade
Professor Dr. Jan Orbie of the University of Gent, Patrick Veillard, campaigner at Oxfam Magasins-du-Monde, and Joanna Pollard, Chair of the Fairtrade National Campaigner Committee, talk about the complex role of fair trade in modern day supply chains.
Please introduce yourself and what you do
Orbie: I am a professor in EU politics at Ghent University in Belgium. My research and teaching concern the ethical dimension of EU foreign policies, with specific focus on European trade and development policies.
Veillard: A bioengineer and journalist by training, I have been working as a campaigner for Oxfam-Magasins du Monde in Belgium for the past ten years.
Pollard: I chair the Fairtrade National Campaigner Committee. We're a grassroots, volunteer-led body supporting trade justice campaigners in over 400 Fairtrade communities around the UK. 
What does 'fair trade' mean to you?
Orbie: When I committed as a volunteer in a local 'Oxfam shop' (Wereldwinkel) deep in West Flanders in the 1990s, 'fair trade' meant for me a combination of pragmatism and activism: we were shopkeepers but we also became activists for a fairer global economic system.
Originally, fair trade entailed radical and utopian views towards a New International Economic Order. Unfortunately, the common sense meaning of 'fair trade' has gradually shifted towards emphasising product labels and logos.
Pollard: Fair trade is about fixing a broken system that's been designed to benefit the 1% at the expense of the rest of us, and in particular the farmers, workers and artisans in the Global South who have historically been the victims of colonial and then post-colonial trading practices.
It's about centring the voices of people who we don't normally hear from: the Ghanaian cocoa farmer trying to feed her family on 74p a day.
What's the difference between Fairtrade and 'fair trade'? 
Veillard: Fair trade refers to the global approach (and movement) of fair trade: trade born in the post-colonial period on the basis of the principle of "trade not aid". This means creating a global trade with the countries of the Global South based on dialogue, transparency and respect. 
This translates into a series of criteria at the economic level (e.g. minimum price, long-term trade relationship, development premium), social level (e.g. ban on child labour) and, increasingly, at the environmental level (e.g. limitation of pesticides, agroecological practices).
These criteria are included in a set of specifications and verified in the field by audits, all of which are included in a Fairtrade certification system or label. 
But Patrick, there are so many 'ethical' certifications in the supermarkets! How am I supposed to know which ones are legitimate?
Veillard: It is difficult to find one's way through what some describe as a "jungle of labels". Some countries, such as France, developed legislation to define minimum criteria and distinguish the good from the less good. But overall, there are few laws in Europe on fair trade.
Pay attention to whether the scheme is in-house, which is not independent but company-specific, unlike Fair Trade guarantee systems. 
Does shopping Fairtrade make a difference if the European political and economic system is inherently unsustainable?
Veillard: You have to start somewhere! Fair trade, despite a strong development over the last twenty years, remains an ultra-minority in world trade (less than 0.05% of world trade). But it is by setting an example that we can try to change things. 
Fair Trade is also about awareness raising, campaigns and political advocacy to change the world trade rules, whether it is in terms of competition law, human rights and environment due diligence, or public procurement. 
Fair trade is a tool for tackling global sustainability issues and fighting climate injustice. It gives communities in the South, the least responsible but most affected by the impacts of climate change, the means to adapt and reduce their emissions.
Our "climate justice - let's do it fair" campaign, shows how fair trade is a tool for the climate transition. 
But Jan, I often can't afford the more expensive Fairtrade product. Doesn't this mean the unethical products will always have an advantage?
Orbie: Your question reduces the fair trade issue to a simple transaction between consumers and producers. This is also the common view on fair trade. It's great that we see increased ethical consumerism and that many businesses want to trade sustainably. But what about the elephant in the room: political actors? 
Western governments including the EU typically take a 'hands-off' approach: they don't intervene in markets to make trade fairer and leave complex ethical decisions to producers and consumers.
Radical fair trade means more market interventions that guarantee stable and high prices, regionalised production, and elaborate welfare systems that provide a good life for all.
Isn't it better to source food locally rather than prop up the globalised food supply chains?
Orbie: Sometimes local produce is better, but not always. Did you buy or get roses for Valentine's Day? Remarkably, even if these were flown in by aeroplane from Kenya or Tanzania, they were still much more sustainable in terms of carbon emissions than greenhouse-produced roses from the Netherlands. 
But do we really need roses in February, knowing that they come with heavy social and ecological costs? System change will inevitably involve less consumption and more local trade. However, this does not mean that global trade is always and inevitably problematic.
The problem is not globalised trade per se, but the injustices and exploitations that come with unregulated markets and that are rooted in colonial trading structures.
So what can I, a random person, do to make trade fairer?
Pollard: The simplest thing we can do to support fair trade is to look for the Fairtrade mark when shopping, but individual consumer action can only get us so far.
To understand why fair trade is so necessary we need to understand why global trade is so unfair in the first place. Find your local fair trade campaign group - most are active on social media! They will share actions like petitions, opportunities to engage your local policymakers.
My favourite quote is from anthropologist Margaret Mead: "Never doubt that a small group of thoughtful, committed citizens can change the world, indeed it is the only thing that ever has." 
Follow Dr Jan Orbie on Twitter @janorbie. Follow Oxfam Magasins-du-Monde on Twitter @oxfam_mdm or Instagram @oxfammagasinsdumonde. Follow Joanna Pollard on Twitter @Ranavalona111.
---
So Now What Do I Do?
LEARN MORE
TRY SOMETHING NEW
CHANGE THE SYSTEM
---
By the way…
---
Stay in the loop
You can connect with me on Instagram, Twitter and LinkedIn. You can also follow the Green Fix Twitter and LinkedIn page here for more climate opportunities.